Meet and Greet Writer
"VinUni Library thrilled to be hosting an author visit on October 10, 2023 from 5:00 pm to 6:00 pm at the VinUni library 24/7 space.
Title: A Writer's Process: Researching, Writing, and Publishing Historical Mysteries
Blurb: In this talk, Hart will explore the craft of storytelling and career building in the realm of historical fiction. Her most recent book, The Cabinets of Barnaby Mayne, is a mystery that unfolds amid the scientific debates and magical beliefs that characterized the city of London in the year 1703. The journey of writing it combined meticulous historical research with plot and character development, all while navigating the complex path of publishing. In discussing it, she will share the joys and challenges of bringing historical mysteries to bookshelves. Whether you're an aspiring writer or simply intrigued by the art of storytelling, this talk will offer a glimpse into the creative process behind historical fiction and the world of literary entrepreneurship.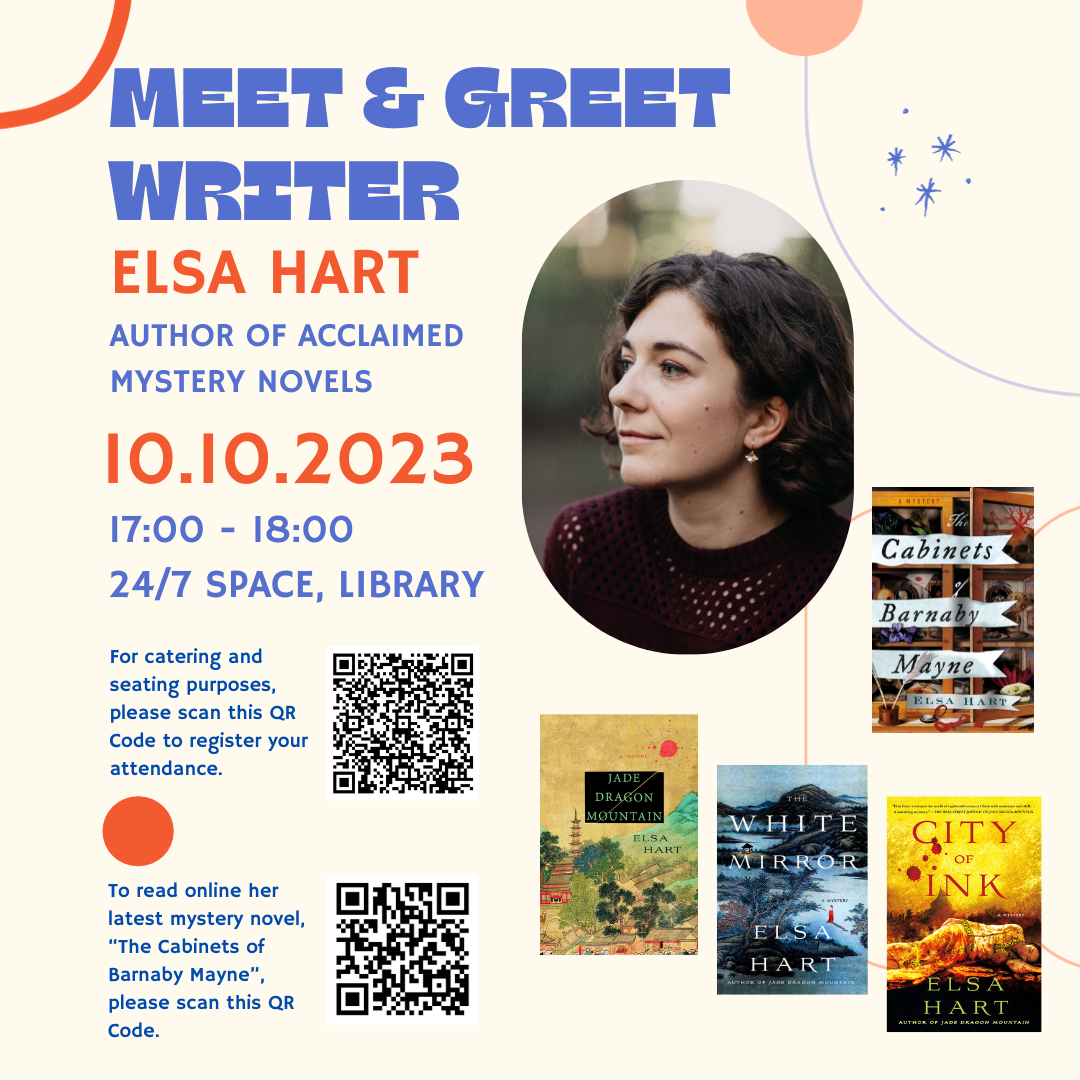 Author Bio: The daughter of a journalist, Elsa was born in Rome and spent much of her childhood abroad, attending international schools in Moscow and Prague. She is drawn to stories about travelers throughout history and likes to put her own characters in places that are unfamiliar to them. Her first three mysteries follow the exploits of a crime-solving librarian in 18th-century China. Her fourth novel, The Cabinets of Barnaby Mayne, introduces Cecily Kay, an 18th-century plant enthusiast whose fascination with botany leads her into a world of collectors, apothecaries, artists, and charlatans. It was the winner of the Mary Higgins Clark award at the 2021 Edgars.
Another exciting news is that Elsa has permitted access to her book, "The Cabinets of Barnaby Mayne," through the VinUni library. Students can access the ebook using the following URL: https://vinuni.primo.exlibrisgroup.com/permalink/84VINU_INST/aoodvc/alma99211906106681. It would require student login credentials to gain access.
Meet and Greet Writer
Related