VinUniversity Book's week 2023: celebrating the joy of reading
VinUniversity Library is organizing VinUniversity Books' Week from April 23 to April 29, 2023, in response to World Book and Copyright Day, Vietnam Book Day, and to Implement Official Dispatch No. 1139/BGDĐT-GDTX dated March 28, 2023 of the MOET.
The aim of this event is to promote the joy of reading and learning in our community. The event features exciting programs, including the Vietnamese Study Collection, VinUni Scholarship Showcase, Environmental Intelligence Photo Exhibit and Metaverse Museum, How to Relive a Book Contest, and My Book Read. We hope to inspire a love for reading and make great books accessible to all. Join us at the VinUniversity Library during this special week!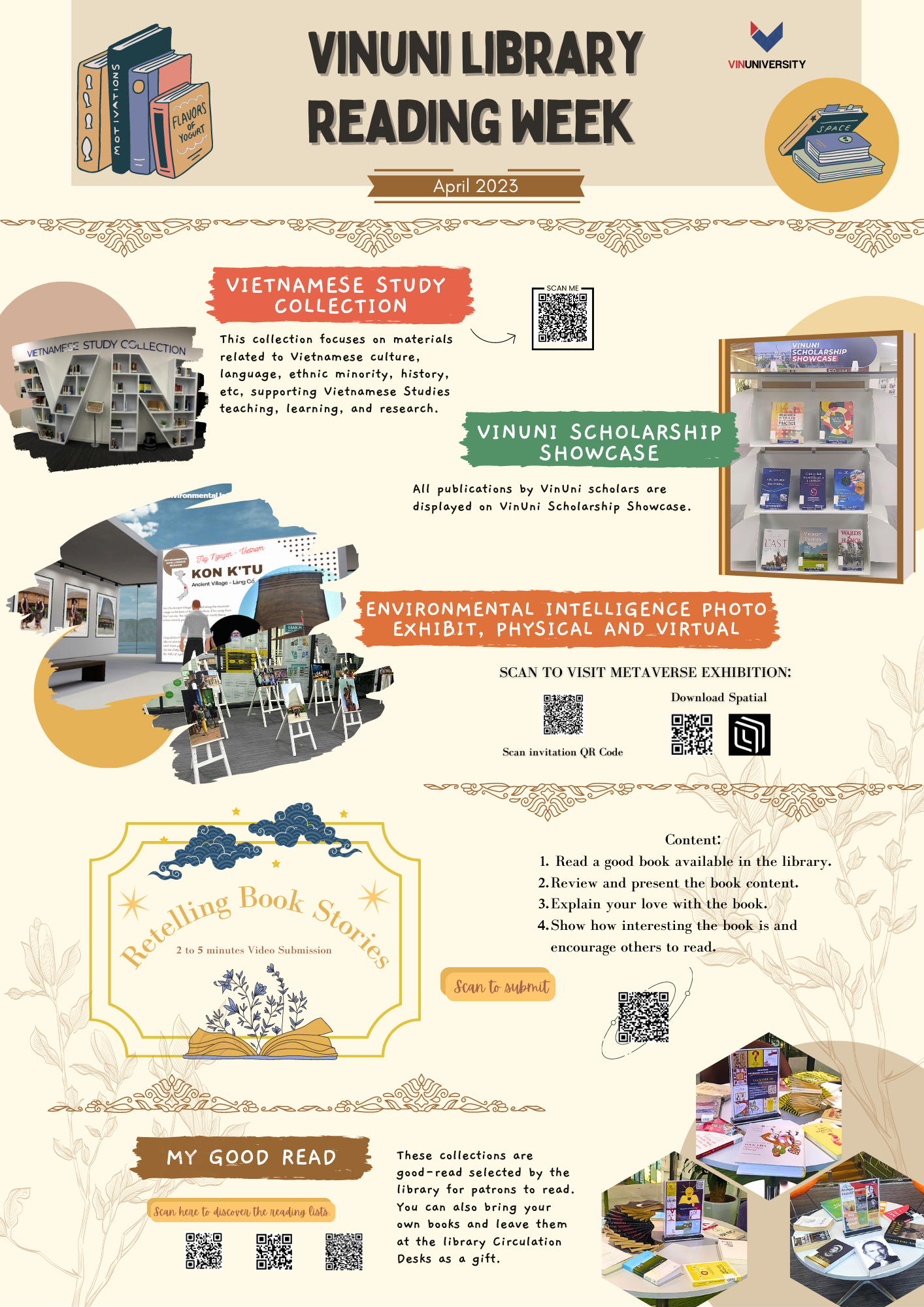 The event is including many activities as below:
1. Launching the Library new special collection: Vietnamese study collection
The library is setting up new special collection with English and Vietnamese book focusing on Vietnamese ethnic studies, anthropology, language, and culture.
2. Launching the VinUni scholarship showcase
The library set up a collection of VinUni scholarships which collects all published books of VinUni faculty/researchers within the time they work here and put them in a bookcase for display and research.
3. Grand Opening of the Metaverse Environmental Intelligence Museum
The library is launching a physical photo exhibit and a metaverse museum in celebration of National Book Week, featuring a collection of photographs and videos shot by Professor Harrison showcasing the diverse cultures of ethnic minorities in Vietnam. The virtual museum (https://tinyurl.com/mrxju5wn) can be accessed from home.
4. Book impression and reading festival:
All VinUnians are encouraged to participate in the reading section with "My GOOD Read" corner in which the library has selected 10 good-read for patrons to read.
5. Library Reading contest_ "How to relive a book?"
Within the Reading week, the Library also invite all VinUnians (including lecturers, staff and students) to join our contest named "How to relive a book?"
Patrons are encouraged to recreate their favourite book (or book series) through a short video from your their perspective.
VinUniversity Book's week 2023: celebrating the joy of reading
Related